History
Born tank to Mrs Rachele Clerici Tessuto's strong will as a small weaving company with machineries and hand looms, Clerici Tessuto, which now got to its third generation, is nowadays a leading group in the Italian and international scenery for the production and commercialization of luxury man and woman clothing and accessory fabrics.
The 1922 ancient factory is today a 10,000 square mt imposing industrial complex holding all the services of the company as well as the whole production process from the creation to the making of high quality fabrics and accessories.
In addition to the Italian head offices, there are also commercial companies such as Clerici Tessuto France settled in Paris and CTC USA Corp. in New York.
Nowdays
Thanks to the current president of the company, Mr Alessandro Tessuto's passion and enterpreneurial ability, Clerici Tessuto group has been able to face the challenges and doubts of the global market opening up to new partnerships and creating the first silk micro weaving factory in Italy supplying the best energies and competences of Como textile sector.
This gave birth to a quick, flexible Minidistrict, prompt in every element, from the yarn to the finished product and able to produce 2,000,000 strictly made in Italy clothing, accessory and interior fabrics every year.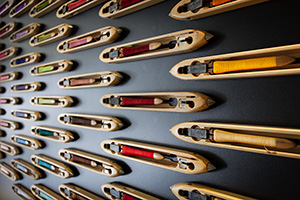 Clerici Tessuto Group is composed of:
YARNS
Ambrogio Pessina srl, Montano Lucino
The company, started in 2001, is one of Clerici Tessuto partners. It is specialized in the twisting bobbin working for silk yarns designed for clothing, tie and interiors.
WEAVING COMPANY
Clerici Tessuto & C. Spa, Grandate
The holding which controls and feeds the whole production and commercial chain.
PRINTING COMPANY
Sara Ink Spa, Villa Guardia
The company is characterized by the use of the most modern ink jet digital printing systems, a fast, effective and low environmental impact solution intended for third parties.
LOGISTICS
The company has a logistic pole settled in a more than 3,000 square mt complex in Villa Guardia. The activities carried out in this pole are the quality control of raw fabrics, dispositions of the working, receipt of the finished products and the last quality control before shipping.
COMMERCIAL DIVISIONS
Clothing Pole
Clerici Tessuto
Leader brand for clothing fabrics.
Fantoccoli
Cutting edge research for fashion most trendy segment.
Guest
A division conceived for the large distribution.
Passion Beach & Body
A division created to satisfy the needs of underwear, beachwear and techno-sport sectors.
New Tess, Milan
A concept store selling fabrics and finished products.
Accessory Pole
A division of jacquard and printed fabrics for ties, scarves, suitcases and bags which produces and distributes also under license man and woman accessories.
Interior Pole
Luna Home
This interior division is addressed to textile editors and industry with a wide range of proposals for plain, jacquard and printed fabrics conceived for padded products and curtains.
BROCHIER
This division produces and retails an exclusive interior design fabric collection.